Updated: September 20, 2021 by Owen Richardson
Are you looking for a way to enjoy new coffee each month? Tired of searching grocery stores and coffee shops for new brews to try? Your solution may be found in this Trade coffee subscription review!
This coffee delivery service has been around since 2018 and has joined forces with at least 50 local roasters. The company offers over 400 different types of coffee to subscribers who also have the luxury of free delivery.
While only paying for your coffee seems like enough reason to head on over to the Trade website and click subscribe, there is more to offer. I will take you through the subscription process while highlighting the perks of choosing Trade for your monthly coffee delivery.
Even though chatting with your local barista is a unique experience that can't be replaced, ordering coffee online through subscription services opens up a whole new world of coffee. You will be able to expand your range of coffee while also helping baristas across the country expand their client base.
If great-tasting coffee and free delivery are not enough for you, continue reading to find out what else Trade has to offer.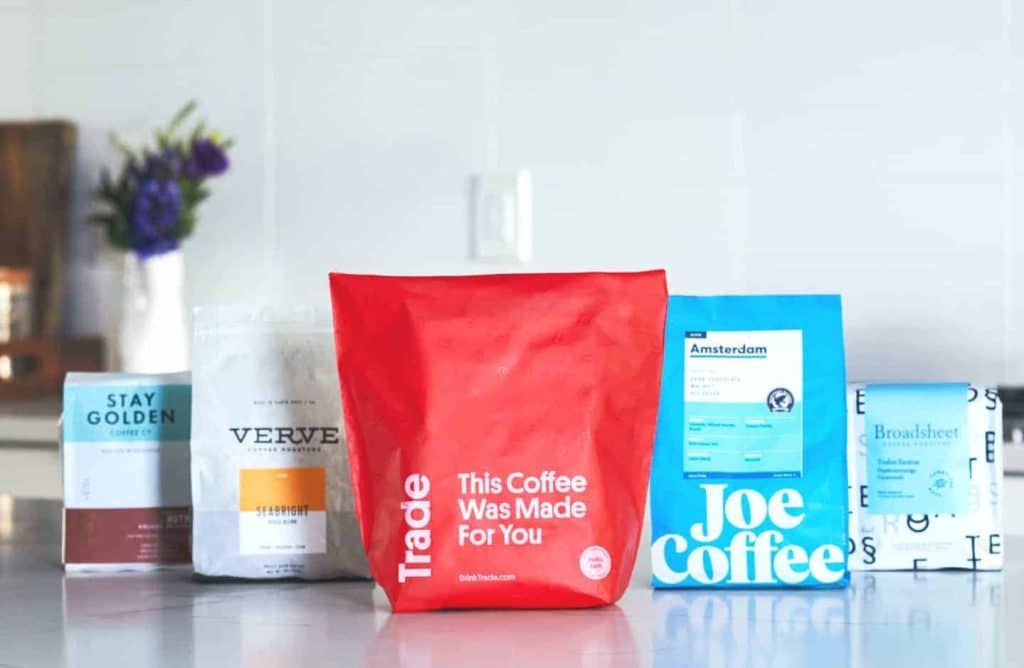 What is Trade Coffee?
Trade is not a roasting company, but rather it connects independent roasters with a wide range of clients. The company itself does not roast the beans. Instead, they find the best roasters around the country and send you the roasted beans.
The website is easy to navigate and you can set up your first order within a few minutes by completing three easy steps.
Match yourself up with coffee
Customize your delivery and grind sizes
Receive your coffee and enjoy the new flavors
The quiz is designed to match you up with the best coffees that suit your tastes. The first question determines your experience level with coffee, and each question after that will be based on your level.
Once you have answered the seven questions to discover your coffee preference, you will see an immediate coffee recommendation based on your answers.
You will be able to read about the taste of the coffee selected for you as well as coffee notes and information about the roaster. If you do not enjoy the first bag you receive, you can replace it for free as Trade values happy customers.
Moving forward with your order, you have the opportunity to select your delivery frequency, the roast level, and grind sizes if you opted for ground coffee.
At this stage, if you would prefer to choose your own coffee, you can select your favorites. And lastly, all you need to do is wait for your flavor-filled coffee to arrive.
Trade Coffee Subscription Review
There are a few subscription services that deliver coffee to your home at regular intervals, and each has its merits. This is why you may need help choosing the right one for you.
With a subscription, you will receive a bag of beans tailored to your needs every month or at the frequency you choose. You only need to answer a few questions to help the experts choose the right coffee based on your preferences.
The curated coffee options sent to you are tested by coffee experts who are always on the lookout for new coffees to add to the growing list. Once the experts discover new tastes, they are tried and tested before being added to the list.
Pros:
Receive 30% off your first order
Free shipping
Affordable prices
Compostable bags
Customizable options
User-friendly online store
Ships 24 hours after roasting
Cons:
Limited to American residents
Varied prices determined by the subscription tier
Trade Coffee Rating
In this review, I give Trade an overall rating of 4.8 stars. This is mostly due to the extensive range of coffee they offer, the customization options provided, and, of course, the free shipping for every delivery.
The limitations of this subscription service are that the coffees are only sourced from local roasters in America, and they only deliver within the United States. However, the shipping restrictions help ensure the coffee beans are always fresh.
Quick Links to Trade Coffee Subscriptions
Get matched with the ultimate coffee subscription.
Give the gift of coffee to your loved ones.
What Makes Trade Special?
This coffee delivery service is unique as the company aims to widen the client base of independent roasters across the country. This also gives coffee lovers the opportunity to try out coffee they would not normally know about.
You will be traveling the country's coffee scene from the comfort of your home. Or if you know of any avid coffee enthusiasts, you can also give the perfect gift by signing them up to experience the country's coffees with a monthly subscription.
Trade offers coffee lovers the following:
Access to independent roasters
Coffee appliances and brew kits
Customizable coffee options
Coffee equipment
Ability to change your preferences at any time
Over 400 local coffees: Coffee experts are on the prowl for new coffees to add to the system, and these coffees are tested before being added. The website currently has around 200 single-origin coffees and 200 blends for customers to choose from.
Cold brew kits: If a cold brew is on your list of favorites, you can purchase a cold brew kit that makes delicious coffee in three easy steps. Simply fill the bag with your favorite cold brew coffee, place it in the jar with cold water, and wait for up to 18 hours before enjoying.
Tailored to your tastes: The site chooses a coffee that matches your preferences. If you don't enjoy any of the coffee sent to you, you can recalculate your choices to receive a more suitable bag of coffee.
Sourced from independent roasters: Over 50 independent roasters can be found on the site, and Trade is consistently finding new coffee roasters to add. The roasters follow sustainable practices when sourcing and roasting your coffee.
Environmentally friendly: Your coffee is delivered in compostable bags instead of boxes as the company strives for zero waste. Some coffee bags from specific roasters are compostable as well, and the cold brew coffee bags from Trade are also compostable.
Free shipping: Trade offers free shipping for every subscription order. All you need to pay for is your coffee. If you would like to get something without the subscription, orders over $30 will be shipped for free.
Customizable preferences: The service aims to pair you with coffee that you will love, so Trade tries to match you with the perfect beans. This is seen in the quiz you take and the feedback options you have. If you don't like a bag, they will use your feedback to give you a better match for your next delivery.
Coffee Gift Options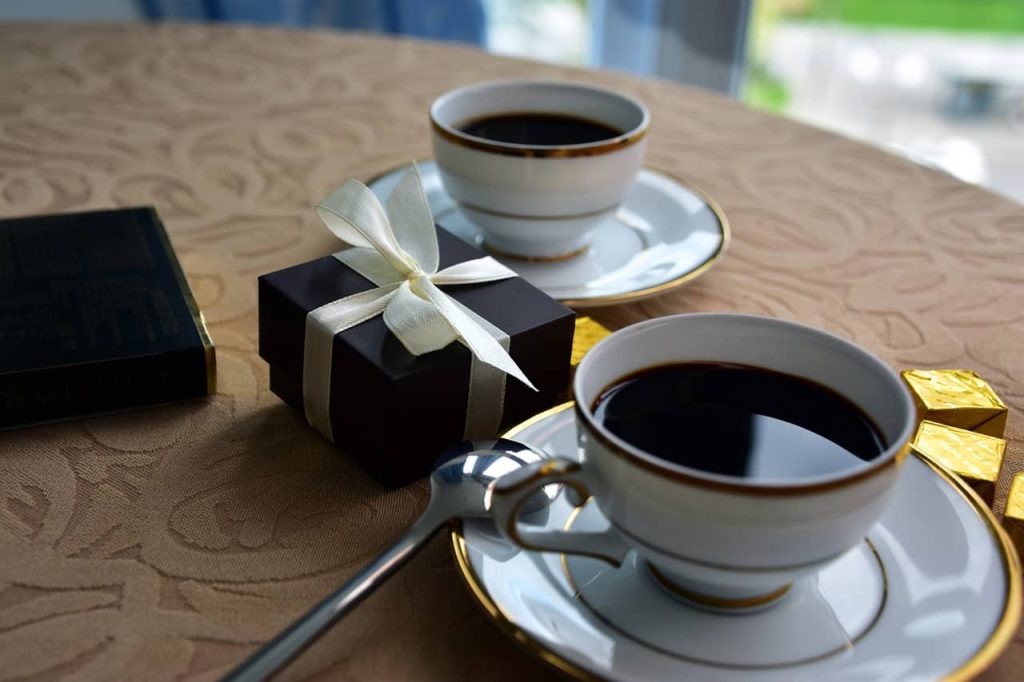 If you are looking for coffee to give to a loved one or even to use for corporate gifts, you can sign up for a gift subscription or find some coffee appliances on the site.
The personal gift subscription offers three options to send: three bags, six bags, or 12 bags. The recipient of the gift will then have the ability to set their preferences and delivery times to enjoy their own personalized coffee beans.
The corporate gifts can be tailored to your individual needs. You can send coffee to your remote team and choose exactly how much coffee to send and when to send it. You can personalize the gifts by contacting the Trade team, who will help you choose the ultimate work gift.
Trade also offers a variety of coffee equipment for you to send to your loved ones as gifts. These include kettles, scales, brew kits, filters, grinders, and brewers. You can browse through the extensive range of coffees for gift options as well.
How Much Is a Trade Coffee Subscription?
You can subscribe to the coffee delivery services on the Trade website after answering a few easy questions that determine your preferences. You will then receive a coffee recommendation with the price for the bag.
The prices fall within two subscription tiers: you can choose between the Hook Up or the Classics. The first tier offers a range of exciting coffees for adventurous drinkers, and the Trade coffee subscription cost for the Hook Up falls between $15 to $22 with free shipping.
The Classics offer a set price of $14.75 if you opt for the one-bag shipment, or you can get a two-bag shipment for $25. The website also has plenty of specials, so be sure to keep checking for discounts.
While the corporate gifts are determined on consultation with a team member, the personal gift subscription options are set at the following rates:
Personal Gift Options:
Three bags – $60
Six bags – $120
12 bags – $240
FAQs
How soon will my Trade coffee be shipped?
The shipping process is completed by the individual roasters to ensure optimal freshness. Once you place your order, the roasters will begin roasting your beans on the next business day and ship your order within 24 hours after that. You should receive your order within five working days.
Can you buy Trade coffee without a subscription?
Yes, you can buy coffee from the Trade website without a subscription. All you need to do is browse through the large range of coffee options and add them to your cart. Shipping fees may apply on single purchases.
Where does Trade ship coffee to?
The company guarantees the freshness of each coffee bag sent to customers, and this requires short shipping times. Trade currently only ships within the United States via USPS. Trade does not ship to freight forwarding addresses.
Does Trade offer free shipping?
Yes, all subscription-based deliveries on Trade are free. If you are buying a once-off item, you will get free shipping on any order that is $30 or more. If you purchase something under the $30 minimum, you will be charged a $2 shipping fee.
If you purchase a second once-off order from Trade within 30 days of your first order, you will receive free shipping and a $15 discount, according to their website.
Is a coffee subscription worth it?
If you are a coffee lover who enjoys trying new blends, flavors, and beans from all over the world, then signing up for a coffee subscription like Trade or Atlas is a great option for you. You can choose from various subscription services that either select the beans for you based on your preferences or give you the option to choose your own beans.
A lot of subscription services offer various gift options for you to send the gift of coffee to your loved ones or to work friends.
What is a cold brew?
A cold brew is a type of coffee that is brewed and served cold, usually over ice. The process includes brewing ground coffee in cold water for several hours to extract the caffeine. These brews are usually stronger than coffee brewed using hot water.
Send Yourself the Gift of Coffee Today!
If you would like to receive some great-tasting coffee beans within the next few days, then you better sign up quickly. Trade is a great way to try out new types of coffees that have been given the stamp of approval by coffee experts.
Trade offers a great subscription-based coffee service for adventurous coffee drinkers who know a few things about coffee. If you prefer coffee that you know and love, Trade may not be the best choice for you.
However, coffee enthusiasts in your circle of loved ones or your corporate circles can benefit from a great coffee gift found on the Trade website. If you don't believe me, you can browse through the Trade coffee reviews from their customers.
If you are ready to get tasting new flavors each week or month, then Trade is your ideal choice. Be sure to have a good coffee grinder ready if you choose to get whole beans, and if you want to get even more adventurous, try adding frothed milk to your new coffee options with a milk frother.