Updated: October 29, 2021 by Owen Richardson
Travel the world with your cup of Joe from the armchair in your living room. You can taste and enjoy coffee profiles from all across the globe without needing to travel far and wide. I'll show you how in this Atlas Coffee Club review!
Atlas is a unique delivery service that selects single-origin coffee from micro-lots around the world to deliver you unique flavors for your morning caffeine kick. Each month, a new adventure awaits you on your doorstep.
What makes this coffee subscription service even better is the freshness of the beans that are delivered to you. Each bag you receive is freshly roasted before being shipped to you, so you have the luxury of fresh coffee beans to brew the ultimate cup of coffee.
For a small fee and shipping costs, you can have curated coffee that is matched to your likes sent straight to you. You receive an informative guide on where your monthly coffee was sourced, along with guidance on brewing, storing, and other tips about how to make the tastiest brew.
Atlas Coffee Club Review
This exclusive coffee club offers subscribers a unique opportunity to taste various blends of coffee from some of the top coffee-producing countries in the world. Carefully selected single-origin coffee is sourced, roasted, and delivered to you each month.
You choose how much coffee and when you want to receive it, which you can change at any time. Each delivery is accompanied by a postcard from the origins of the beans along with the top brewing tips for the individual roasts.
This gives you the opportunity to taste a variety of flavors and immerse yourself in coffee cultures around the world.
Atlas Coffee Rating
In my review of the Atlas Coffee Club, I give an overall rating of 4.7 to this subscription service. For an affordable fee, you are part of an exclusive club of coffee lovers who aim to share the delights of coffee from all over.
You can have coffee from Costa Rica, Brazil, Ethiopia, Peru, Kenya, Malawi, and so many more countries at your fingertips. Each is roasted freshly to your preference, providing you with coffee just the way you like it. You can choose your roast profile and whether you want whole beans or ground coffee delivered to you.
Each bag you receive will be filled with high-quality coffee handpicked at just the right moment from the best coffee-producing countries.
Atlas Coffee Subscription
When you sign up for the Atlas Coffee Club, you have control over how you receive your coffee. You can choose the delivery schedule that suits you along with how many ounces (from 6oz to 24oz) of coffee you would like to receive.
Atlas Coffee was designed to give clients a truly unique experience of coffee. Through careful curation, top-quality selectors, and high-end roasting techniques, you can become a coffee connoisseur.
Pros:
Top-quality, single-origin coffee
Freshly roasted before delivery
Exclusive brewing tips and techniques
Schedule control for deliveries
Simple sign-up process
Ethically sourced coffee
Beautiful packaging
Gift options available
Cons:
Additional shipping fee required
Bags are not resealable
Quick Links to Coffee Club Subscriptions
How Does the Atlas Coffee Club Work?
Signing up to the Atlas Coffee Club is a simple streamlined process that will only take you a few minutes. You can set up your first delivery in no time by navigating to the subscription page.
Once you are on the subscription page, you answer a few questions to give an idea of your preferences. These questions include the number of bags you would like to receive in each shipment and the frequency of shipments—you have the option of every two weeks or every four weeks.
You will indicate your roast preference and grind type before you move on to confirming your subscription. One limitation of this coffee club is the lack of customization options for the coffee you receive. The only questions you answer are summarized as:
How many bags would you like to receive per shipment?
How often would you like a shipment?
What is your roast preference between light to medium, medium to dark, or all roast types?
What is your grind type: Whole beans or ground?
After following the simple sign-up process, all you need to do is wait for your first delivery, which is usually sent out within two days of ordering.
While each bag sent to you is roasted to your preference, the roaster still follows the best practices for roasting each type of bean. This is done by taking care of the beans as required depending on the country of origin.
This maximizes flavors to give each batch of coffee beans the attention they deserve. The roasting process is also completed right before delivery to give you the ultimate freshness for every cup of coffee you brew.
Upon subscription, you will have access to the members-only platform where you can keep track of your deliveries. You will also have the ability to add tasting notes and move your order dates around if needed.
You are never locked into specific shipping dates, and you can choose to skip deliveries or change up your delivery dates if you would like.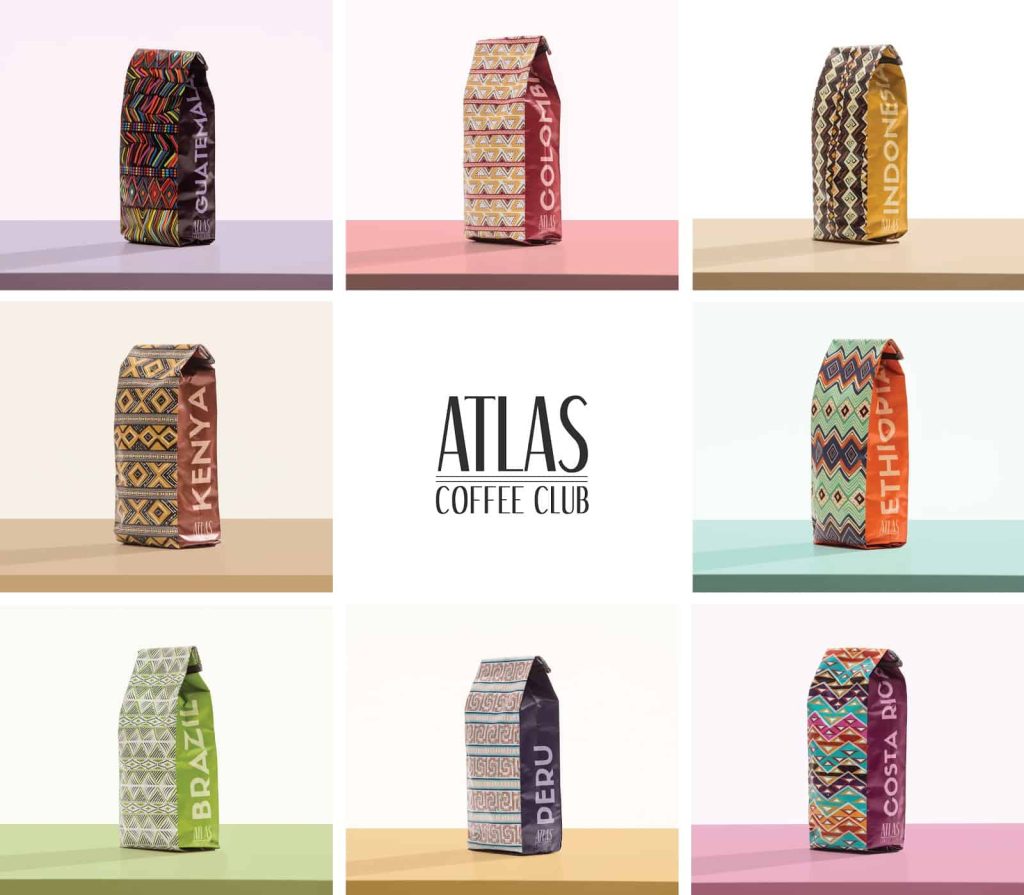 What Does Atlas Coffee Club Offer?
Signing up for this exclusive club offers members the unique opportunity to taste new coffee each month ethically sourced from all over. The service extends beyond just coffee and offers individuals a unique experience that brings cultures to your doorstep.
The Atlas Coffee Club gives you access to the following features:
Extensive coffee brewing tips
Insider information on all things related to coffee
A members-only area to manage your subscriptions
Freshly roasted coffee every month
Sustainable and ethically sourced coffee
Coffee sourced from 50 countries across the globe
Notes and facts on the country of origin for each coffee
Customized packaging
Insider information on brewing tips: The club has access to seasoned coffee experts that provide top tips with each coffee delivery. These tips include specific brewing notes for the bag of coffee you have received to help you bring out the flavors in the best way during the brewing process.
Curated coffee options: You can skip the hassle of trying to decide what coffee to try next. Each time you open a new coffee delivery, it will feel like receiving a gift from a secret admirer. The club selects a new high-quality coffee for you to try each month.
Freshly roasted: Every coffee lover knows that the freshness of the beans greatly impacts the flavor of your coffee. This is why the club only roasts the beans when they receive your order. This process ensures you receive the freshest beans for your brew.
Roasted to your specifications: When you sign up, you have the option to choose the roast level you prefer for your coffee. The skilled roasters will keep this in mind while they prepare your beans, using the best practices for each type of bean.
Ethical coffee: Every batch of coffee sold by Atlas uses sustainable practices, from the growing of the fruit to the roasting of the beans. The coffee is also ethically sourced and the coffee distributed by Atlas is Fair Trade certified.
A global experience: The club brings coffee from 50 countries around the globe right to your doorstep, allowing you to experience a multitude of cultures from the comfort of your home. The top producers of coffee are found on the list.
More than just coffee: Each batch of coffee beans is specially packaged in beautifully designed bags that express the cultures of the different origins. The vibrant colors will make you want to collect the packaging!
A cultural experience: Each bag of coffee is equipped with a postcard from the place of origin detailing insightful facts about the place. This includes the history of coffee in the area as well as how the coffee is best prepared and consumed.
While the club has some limitations, such as not having a large range of customization options and not having the ability to control the coffee you receive, the club does take away the need for you to search for unique coffees in obscure shops. You can enjoy the taste of the world from your couch.
Coffee Gift Options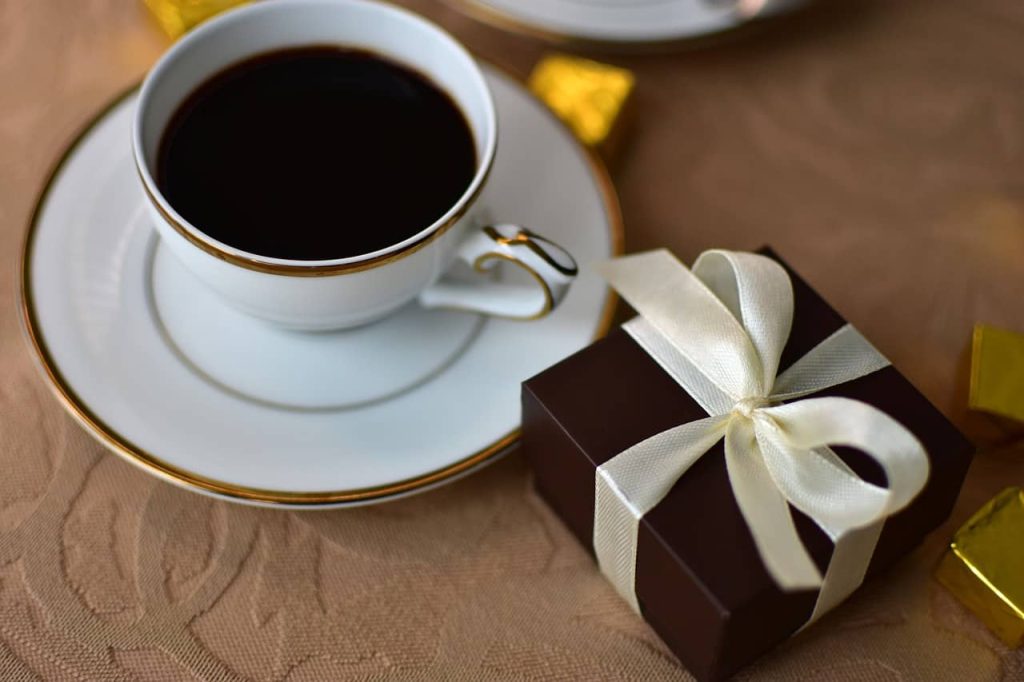 The above features should already be enough to make this a truly great coffee subscription service, but there is more! The club also offers gift options, including personal gifts and corporate gifts.
If you have someone in your circle who enjoys traveling and also loves the taste of new coffees, you can surprise them with the perfect gift. You can sign them up for this unique experience for three months, six months, or 12 months.
The recipient will receive all the benefits of a normal subscription along with a unique bag of single-origin coffee each month. Their gift comes with a postcard from the place of origin, brewing tips, and a freshness guarantee.
You can also find great gifts for your clients, which will have them thinking of your business with each sip of coffee. Whether it is one client or 300 clients, you can find gift options on the Atlas website. You can opt for a one-month coffee gift or go up to 12 months. This will determine the amount of coffee sent to your client/s.
The client packages include the regular items: the superb coffee, a postcard from the country of origin with local information, and brewing tips. You can also opt for corporate gifts to include a personal message in the package, keeping you a firm favorite of your clients as they sip on new brews.
Where Can You Purchase an Atlas Coffee Subscription?
The best way to sign up for an Atlas Coffee subscription is through the Atlas website. You can also navigate to the gift options! The seamless sign-up process only requires you to select a few options for your preferences and then include your payment details.
The prices are determined by the amount of coffee you would like to receive, and the current options (excluding shipping costs) include:
Normal Subscriptions:
Double bag (24oz) – $28
Single bag (12oz) – $14
Half bag (6oz) – $9
Personal Gift Options:
Three months – $60
Six months – $120
12 months – $240
Corporate Gift Options:
One month – $17.50
Three months – $51.99
Six months – $99.99
12 months – $199.99
Overall Reviews of Atlas Coffee Club
Overall, the club is a great option to enjoy unique coffee every month. The major downfalls of this service are the shipping fee, which can be quite pricey, and the lack of customization regarding coffee selections.
Subscription options: The subscription options get 4.5 stars in my book since you can select the number of months you would like to receive coffee. You also have the option to set the frequency of deliveries. The best feature is the flexibility of delivery dates since you can change these if necessary.
User-friendliness: The website is user-friendly and provides an easy sign-up process. Members also have access to an exclusive platform, allowing them to make changes to their subscriptions and delivery times. Atlas receives 4.8 stars for the sign-up process.
Coffee quality: The coffee is ethically sourced from countries known for producing high-quality coffee. The unique flavors and wide range of origins for the various coffees get 4.8 stars from me.
Packaging: The elegant, beautifully designed bean bags add a unique touch to this delivery service. The link of the designs to the coffees' origins gives the packaging meaning. However, the lack of a resealable tag means you need to store your coffee in a sealable container. The packaging receives 4.5 stars.
Shipping: The relatively quick delivery time for the first order is a mark in their favor. However, the shipping fee, which is a bit pricey, leads me to give 4.3 stars for the shipping.
Price: The price of the coffee is decent and a lot cheaper than buying takeout coffees. Balancing this with the shipping fee, I would give it 4.5 stars.
Check out too our review of Bean Box subscription here
Trade is another great subscription service. Check it out here.
FAQs
How long do coffee beans last?
Coffee beans stay fresh for around two or three months. To enjoy the optimal flavor from your coffee beans, you should brew and consume the beans as soon as possible. You should always store your beans in an airtight container to preserve the flavors for longer.
Are whole beans better than ground coffee?
Choosing between whole beans and ground coffee depends on your circumstances, as some coffee makers require ground coffee while others only take whole coffee beans. Once the coffee has been ground, it starts to lose its flavor due to the oxidation process.
If you require ground coffee, you should always grind it at home using a quality grinder to enjoy your coffee at its freshest.
How fresh is Atlas coffee?
Atlas only roasts your coffee beans the business day after you submit your order. The coffee is packaged as soon as it is cool enough and shipped to you. The shipping process gives the beans time to degas so when they arrive at your door, they are at their optimal freshness.
Can you change your original Atlas preferences?
Yes, you can change your preferences and delivery dates on your profile in the members' area on the website. You can alternate between grind types and delivery frequency, as well as the roast level you would like to try.
Is it easy to cancel your Atlas subscription?
Canceling your Atlas subscription is fairly straightforward. You can cancel at any time from your membership area on the Atlas platform. Once you receive a confirmation email, your subscription will be canceled.
Does Atlas offer a rewards program?
Yes, Atlas offers a rewards program for all members. You receive points for the miles your coffee travels (from the place of origin to your door). You also receive points when you send personal or corporate gifts and refer friends to the subscription service.
Let's Taste the World!
Enjoying the finest coffee doesn't require a trip to the grocery store or an expedition around the world. You can enjoy rich and flavorful coffee from a new country every month for an affordable subscription fee.
Turn your coffee drinking into an experience with global flavors and cultural stories from top coffee-producing countries. You can tailor the deliveries to suit your needs and change your preferences at any time.
Sign up for yourself or for a loved one to share the journey around the world with sustainably sourced coffee. If you don't mind the gamble of what coffee you will receive and if the shipping fee doesn't deter you, then the Atlas Club is a great pick. You might also want to check out Mistobox, another great coffee subscription service.
Sign up for a subscription of fresh beans from around the world and get ready to brew them in your quality home coffee maker. If you don't already have any coffee gadgets, then head to our website to find the right coffee appliances for your daily brew!