Updated: January 12, 2022 by Owen Richardson
Imagine having your favorite coffee, as well as new coffee for you to try, delivered right to your front door, every month! Well, you can have this luxury of curated coffee delivered to you and I'll show you how in this MistoBox review.
The creators of MistoBox coffee have designed a successful business by bringing quality coffee curators to your fingertips. Focusing on your unique tastes, the experts at MistoBox will bring you unique and great-tasting coffee weekly or monthly.
Professional coffee roasters from all over the country are also on hand to freshly roast your chosen beans just for you! This sounds like a dream to the enthusiastic coffee lover, but the best part is that it's a reality. And you can have it all.
MistoBox offers an affordable subscription each month for you to enjoy in this exclusive coffee club by bringing you the best award-winning roasted coffee from across the country.
All you need to do is subscribe and make sure you have a decent coffee maker to brew up these new delicious cups of quality coffee.
MistoBox Review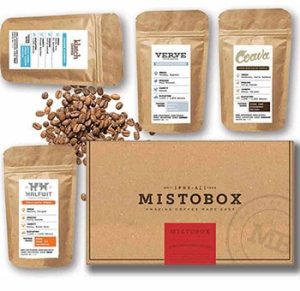 MistoBox was created as a way to find the best artisan roasters around the country and connect them to you by delivering their quality beans to your doorstep. The MistoBox team does this by sampling new coffees from all corners of the country.
They then select the best of the best and add it to their selection. You can either choose your own beans or have your specially assigned curator choose them for you. They will determine the right beans for you based on what you like.
The MistoBox subscription service has several pros and only a few cons. You have personalized coffee delivery services that give you access to professional roasters from all over the country, plus a designated curator to help pick out the perfect beans for your brew.
There is not much more you can ask for. Here are some of the pros and cons of this service:
Pros
A personal coffee curator
Easy to stay up to date with your orders
Manage incoming orders with the brew queue
Coffee is freshly roasted to order
Personalized coffee journey
Shipped right to your door
A huge variety of coffee
Cons
There is a $5 shipping fee
No sampling options
MistoBox Coffee Rating
The MistoBox coffee subscription receives a 4.8 in my book due to the variety of coffee that is immediately available. There are over 500 types of coffee beans to choose from that are sourced from more than 50 local roasters around the country.
These artisan roasters deliver the highest quality products, which provides an endless supply of good coffee for subscribers. This rating is based on the great value for your money, the variety, and the freshness of the coffee.
Another factor that makes this a good service to subscribe to is the high level of sourcing standards.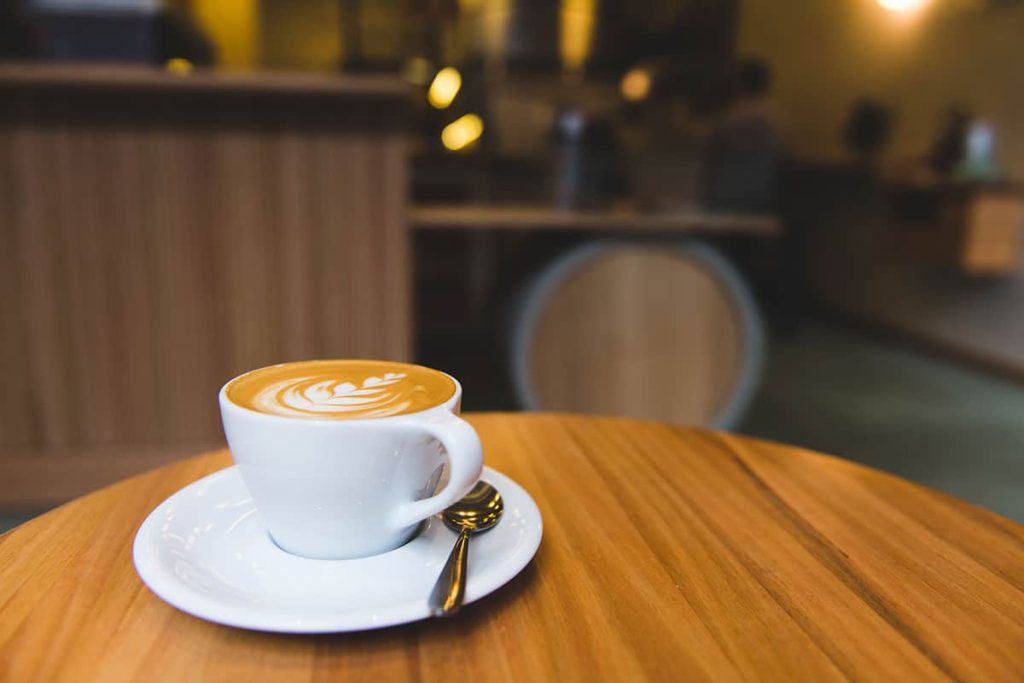 What Is MistoBox and How Does It Work?
When you are ready to subscribe to MistoBox, you simply answer a few questions about your coffee preferences to sign up.
The first question is how you enjoy your coffee; black, with milk, cream, frothed milk, or sugar. Either way, the curators will match you up with the finest coffee.
The next question is whether you want whole beans or ground coffee. We all have different preferences and your choice here will depend on the type of coffee machine you have in your home.
Next, you choose your roast level. Whether you prefer a dark, medium, or light roast, MistoBox has you covered. Following this choice, you select your favorite type of coffee, whether it is single origin, espresso, or a blended coffee.
Then, you choose how much coffee you are likely to consume. This will determine how often you will receive shipments of coffee beans. You can opt for a weekly shipment that contains 24 cups per week, a delivery every two weeks containing 12 cups per week, every three weeks with eight cups per week, or every four weeks with six cups per week.
Lastly, you can choose whether you would like the basic package or the deluxe package. While every bag of coffee delivered by MistoBox is of high quality, the deluxe is one step above the rest for the ultimate coffee lovers who take pride in their coffee brewing.
Once you have chosen your coffee tier, you can decide on a coffee plan that determines how many bags you pay for. You can either pay per coffee bag, opt for the six bag option, or the 12 bag option. The more you purchase, the bigger the discount you receive.
To summarize the process, you need to answer the following before signing up for your subscription:
How do you take your coffee?
Ground or whole coffee beans?
What is your preferred roast level?
What is your favorite type of coffee?
How often do you want a shipment?
Which subscription tier would you like?
Then choose your coffee plan
Once these questions have been answered, you are ready to hit the checkout button and sign up for the best coffees delivered to you at home.
You can also change these customizations at any time if you decide to change up your brewing habits. Your subscription is also fairly versatile in that you can pause it at any time for up to a year.
You will have access to your personal curator, who will be in contact with you to determine whether their coffee choices for you were correct or whether you would like to try other coffee beans.
What Does Mistobox Offer?
MistoBox doesn't only offer you over 500 types of great coffee beans for your brewing pleasure, it also gives you access to helpful brewing tips and coffee experts to help you on your coffee journey.
Each type of coffee offered by MistoBox has been tried and tested to ensure that you will only receive the best quality of coffee beans around the country. The deluxe subscription offers the best of MistoBox's coffee bean picks.
Once you have subscribed after filling out the survey, you will receive an email from your assigned curator who proceeds to give you excellent brewing tips. You also have the opportunity to provide feedback to your curator as you go through the various coffee beans they send you.
This allows you to converse with them to let them know if their choices for you were off and to give reasons. As a result, you will be paired with more suitable coffee beans for your next delivery. Or, if they make the right pick, you can easily get your favorite brew each and every time.
Once you have signed up for your coffee deliveries, you will have access to your own user profile where you can easily change your coffee requirements to suit your needs. You can change the type of coffee you like as well as your delivery dates.
This gives you full control over your coffee experience. On this dashboard, you can also send feedback for each coffee you have tried. This is seen by your curator to give them a better profile of your coffee likes and dislikes.
If you fully immerse yourself in this process, you can provide your curator with all the information they need to provide you with great-tasting coffee beans.
MistoBox coffee provides you with the following features:
A fully customizable coffee journey
Access to your very own coffee expert
A variety of coffee beans to try
Ample opportunity to provide feedback
MistoBox puts your coffee beans in your hands, giving you the space to choose the ultimate coffee for your morning, afternoon, or evening brew. You have the opportunity to change your mind throughout the process to ensure you are receiving a product you enjoy.
If you are daring and trust the experts, you will be given a whole range of new coffees to try, allowing you the space to elevate your coffee-making skills as you are provided with tips and tricks along the way.
Check out our reviews of other coffee subscription boxes.
Quick Links to MistoBox Subscriptions
Not Ready for Commitment?
If you would prefer to try out the various coffee beans without the subscription costs, you can also shop on the MistoBox website to select single bags of beans. While searching for the beans, you will get a detailed breakdown of the coffee.
This will include the story of the roasters who roast the particular coffee as well as the details of the origin of your selected beans.
At a decent price you are receiving more than just coffee beans. You get an entire personalized coffee experience that is shareable with your loved ones.
MistoBox Coffee Gifts
If you want to share this experience with someone, you can give them the ultimate gift of a coffee subscription. You can simply pay for their subscription, with a three, six, or 12 box option. If these preset options don't work for you, you can choose anywhere between two to 24 boxes for the gift.
When ordering a gift subscription, you can give the recipient the freedom to customize their coffee just as you do when you subscribe. It will present them with all the questions to determine their unique likes and dislikes.
You can choose to ship the gift and personalize the note that appears with the gift.
This is the ultimate gift to a fellow coffee lover, with access to a good supply of high-quality coffee, which goes beyond just coffee beans. They get access to unique coffee flavors that can be tailored to suit their tastes.
If you are looking for a slightly less personal gift, MistoBox also offers corporate gift options to give you the opportunity to thank your staff or your regular clients. You can choose from various options by filling out a short survey and waiting for the MistoBox team to contact you.
They will find out your specific needs to offer you the most suitable corporate gift options.
How Do You Get a  MistoBox Subscription?
If you are ready to experience a full coffee experience with roasted beans from across the country, you can easily subscribe on the MistoBox website. All you need to do is fill out the quick survey to help them decipher your coffee preferences and head to the checkout.
The options you choose in the beginning can be changed at a later stage so you don't have to worry too much about the initial choices you make when signing up.
The MistoBox cost depends on the type of subscription you decide to choose. This will vary based on the tier level and the delivery schedule of your coffee.
The prices generally start at $10.16 per bag of coffee in the basic tier. In the deluxe tier, the coffee prices start at $12.71 per bag. Once you have selected your tier, you will be able to select your coffee plan.
If you choose the 12 coffee plan that consists of 12 boxes, sent to you at your desired frequency, you will pay less per box than if you choose the pay per coffee option.
Then on top of your subscription fee, you will pay a small shipping fee of $5 to have your coffee shipped right to your doorstep. This is not too bad when you look at the amount you are paying for one cup of coffee.
Choosing the basic package with the 12 coffee plan, you will pay $0.63 per cup, which includes the shipping fee. This beats the price of a coffee from a retail chain. Plus, it is freshly roasted coffee that is uniquely picked for you. You can't get that type of service when buying an expensive takeaway coffee.
MistoBox FAQs
Is MistoBox a good subscription to have?
If you are an avid coffee drinker and you enjoy brewing different types of fresh coffee beans, then MistoBox is a great option for you. Offering a personalized journey, you have full control over the types of coffee that are sent to your home.
You can choose from over 500 different coffee beans, sourced from over 50 artisan coffee roasters around the country. Or you can have a personal coffee curator choose for you. You can also select the frequency of deliveries and change this at any time.
Companies like Atlas and Trade also offer similar services.
What is a coffee curator?
A MistoBox coffee curator is a designated coffee professional who is assigned to help choose the right coffee beans for you. They will select different beans based on your survey answers to match you with the right beans.
Throughout your subscription, they are on hand to hear your feedback and match you with the correct coffee beans. You will also receive brewing tips as well as other tips that will help you improve your coffee brewing skills.
Where does MistoBox ship to?
Currently, MistoBox only ships to people within the U.S. This is due to their commitment to delivering fresh coffee beans. Any shipments outside of the U.S. would result in a less fresh bag of beans, which degrades the quality. This can reflect negatively on the artisan coffee roasters.
How long do coffee beans last?
Coffee beans will generally last for up to three months if they are stored correctly. You should keep your opened coffee beans in an airtight container to retain freshness. While coffee beans will last for a few months, it is better to consume them earlier rather than later.
The fresher your coffee beans, the better your cup of coffee will taste. This is why MistoBox delivers freshly roasted beans to you, giving you the chance to enjoy fresh coffee.
Let's Get Brewing!
Choosing the freshest beans for your coffee doesn't have to be a struggle for you any longer. You can let the professionals decide for you and merely receive freshly roasted beans whenever you need them.
MistoBox's user-friendly platform opens the door for you to enter into a new world of coffee with artisan roasted beans. You can enjoy your favorite brew method with high-quality beans or ground coffee.
Get matched with your personal curator and converse with them to find the ultimate blend of beans for your coffee tastes. Whether you enjoy your coffee black, with a splash of milk, or with cream on top, you can enjoy it fresh.
Sign up to MistoBox today and you won't have to worry about running out of fresh coffee beans again. The customizable features of the platform let you tailor your delivery in a way that suits you.
If you want to try the whole bean options from MistoBox, which is advisable for the freshest coffee, but you don't have a coffee maker that supports whole beans, then have a look at our review for the best coffee grinders.