Updated: March 21, 2022 by Owen Richardson
Let's talk about the best espresso machines under $200. How far will that budget take you? Should you even bother looking?
Whoever said that greatest espresso machines are expensive espresso machines are probably right, but that doesn't mean you can't have a fairly good one that can give you a good shot of espresso for $200 or less. I have seven of them that can prove my point. There were a lot more I could have included on this list, but I wanted to keep this roundup short and sweet for you!
Let's get into the reviews and see that special something that landed these machines on my list!
TOP PICK

The snobs can say what they like, but Nespresso can give you a decent espresso in a pinch, and you don't need any barista skills either. As my top pick for this guide, I have one of their best machines to date and that is the Nespresso Vertuo Plus Espresso Machine.
Here Are the Best Espresso Machines under $200
If you know anything about coffee, then you must have heard of the irreplaceable espresso machines from the company called Nespresso. This Nespresso Vertuo Plus machine, which is my top pick for this guide, has a unique Nespresso system that uses something called Centrifusion technology. Once you put the capsule in the machine, the barcode lets the machine know exactly what type of coffee to brew!
Key Features
Automatic capsule system
Pressure delivered by Centrifusion®
Large water tank
Used capsule container
Fast heat-up
Using this machine is undoubtedly going to be the easiest thing you have ever done. The machine brews the coffee without any involvement on your part, it puts the used capsule in a used-capsule container, and it shuts itself off after nine minutes of inactivity. What is even better is that it will take only a minute or less from the moment you turn the machine on to the moment you get your coffee!
You should know that this machine can be used only with Vertuo capsules, which have a unique extraction system that is perfect for making a great cup of espresso. Aside from this, some of the notable features of this machine are the removable and adjustable water reservoir, the removable and adjustable drip tray, the chamber for used capsules, the ability to choose between four different cup sizes, the ability to choose between single or double espresso, and so on. The machine is also quite compact, so it can easily fit anyone's kitchen.
This is a machine that you will undoubtedly love using because of how convenient it is. I recommend that you give it a chance as soon as you can. For more information on it, check the detailed review given further below.
Pros
One-touch brewing system
Four cup sizes are available
Cons
Incorrect error codes may appear sometimes
Nespresso has some amazing machines, but this is one of the best that you can find for less than $200. On top of that, there are a ton of different Nespresso capsules that you can use with this machine. You will never get bored of drinking coffee from this machine!
Here comes yet another Nespresso machine, but this one is not a part of the Vertuo Line; it is part of the Original Line. This Inissia espresso machine is one of the cutest portable machines, but it is also quite powerful. It features a 19-bar high-performance pump that will help you brew a great cup of espresso!
Key Features
One touch single serve capsule system
19-bar pressure
Compact and lightweight
Energy-saving mode
Automatic power-off
Made by De'Longhi
Once you turn on this machine, it will take only about 25 seconds for the water to reach the optimal temperature for espresso. Then, you put a capsule in and start your brew. Again, it will take less than a minute before you get a cup of espresso brewed to perfection.
Pros
Espresso and lungo buttons
Fast head-up
Cons
Machine can be a bit loud
If you are looking for a small yet powerful brewer, this is the perfect choice for you. You will no longer have to rely on French presses or drip makers to brew your coffee – you will be able to use this machine and get some great espresso with little to no effort and virtually no waiting at all!
Lavazza is one of the most famous Italian coffee companies. They have a lot of great coffees and even better coffee machines. This espresso machine has a modern and elegant design that could fit well in any home or office space.
Key Features
Automatic capsule system
9-bar pressure
Energy-saving standby function
Visual alerts
Fast heat-up
When you turn on the machine, it will take less than 30 seconds before it is ready for brewing. You can use the simple touch controls to choose between espresso and lungo, and you can also remove the drip tray to accommodate a larger cup or mug. You can even use a travel mug to get your daily dose of coffee before you head to work or school!
Pros
Large capacity removable water tank
Removable cup support
Cons
Not suitable with a lot of capsules
If you are into blue things, this machine is something you need to look into! It is very easy to use and easy to maintain, the controls are straightforward, and the brewing process is quite fast. Overall, this machine is something that deserves a closer look.
This espresso machine from Breville is somewhat different from the previous two – while those can be used with capsules only, this Breville espresso machine comes with a portafilter that can be used with coffee grounds. You can choose between a single filter and a double one, or you can put a capsule in the portafilter and use it like that!
Key Features
Semi-automatic
15-bar pressure
Quality Thermoblock pump
Dual-wall filter system
Cup-warming plate
After you prepare your espresso, you can also use the professional-grade adjustable steam wand to steam some milk. Then, add the milk to the espresso to get a lungo, cappuccino, macchiato, or any other espresso-based beverage you can make with milk!
Pros
Removable drip tray and water tank
Frothing jug included
Cons
Not quite suitable for taller cups
I recommend this machine to everyone looking to get an at-home espresso machine with all the features needed to make great coffee. Remember to put that cup-warming plate to good use as well – you can place up to six cups on it and heat them. Talk about drinking espresso like a real Italian!
This espresso machine from Gevi is another one that has very easy controls. On the front side of it, you will find an LED display that allows you to check and adjust the settings on the machine. The buttons next to the display allow you to choose between a single or double shot, while the knob on the side lets you choose between coffee brewing and milk steaming.
Key Features
Automatic
20-bar Italian pump
Intelligent temperature control
Thermoblock boiler
Thanks to the advanced heating system, the machine will heat quite fast. It will take less than a minute to brew the coffee, and you will also be able to continuously make espresso or steam milk. This allows you to save a lot of time, especially if you need to make a lot of coffee at one time.
Pros
Professional steam pipe
Removable water tank and drip tray
Cons
Machine may not be that durable
This machine can make great espresso, but you need to keep in mind that some of its parts are made from plastic. That means that they will not be as durable as the parts made from stainless steel. If you are looking for something more durable, this might not be the best option for you.
The advanced cappuccino system in this De'Longhi espresso machine is what makes it special. Thanks to it, you make beautiful milk foam for your lattes and cappuccinos.
You also will not have to wait at all between brews. The water is always at optimal temperature and ready for another brewing cycle.
Key Features
Semi-automatic
15-bar pressure
Three-in-one filter holder
Advanced cappuccino system
Compact design
If you want to get a bit more coffee, you can always remove the drip tray and create more space for a taller cup or mug. Aside from the removable drip tray, there is also a removable water tank. The fact that you can remove it makes it so much easier to clean and refill it!
Pros
Suitable for taller cups
Manual milk frother
Cons
Espresso might be a bit watery
One espresso shot or two…? With this machine, you will be able to go with whatever suits your needs best. Do not forget to try out the milk frother – it is a great one that can help you turn your espresso into a cappuccino or latte!
This Chefman has a simple yet elegant design made a bit more interesting by the commands on the front side. These commands let you choose between a single or double espresso, a single or double cappuccino, a single or double latte, milk frothing, or the cleaning option. It has never been easier to operate a machine than now, thanks to this great Chefman espresso machine.
Key Features
Super-automatic
15-bar high-pressure pump
Large capacity water reservoir
Built-in frothing mechanism
The removable drip tray, milk reservoir, and water reservoir make cleaning this machine that much easier. You can put them in a dishwasher, and you can easily rinse the portafilter and filter baskets by hand. As for the rest of the machine, just give it a quick wipe with a damp cloth and you will be good to go!
Pros
One-touch operation
Easy maintenance
Cons
Frothing mechanism can cause a bit of a mess
As one of the more affordable machines on this list, I recommend that you look into this machine closely if you are looking to buy one with one-touch controls. This comes with some great features, so I think you will not regret giving it a try!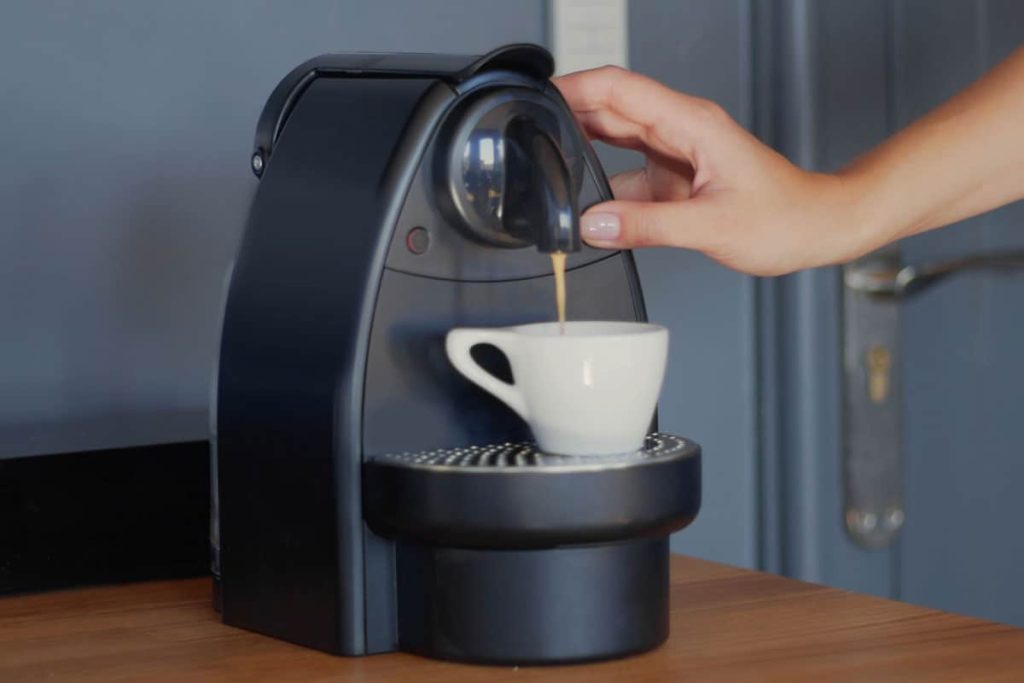 Picking the Best Espresso Machine under $200
When on the market for a good espresso machine that fits within a 200-dollar budget, you simply have to keep your eye on the prize — a good shot of espresso. You won't be getting a pro-level machine, but you can get some pretty amazing ones nonetheless.
If you can afford even less than $200, say only $100, here are some espresso machine options you can go with. But if you can add a little bit more, check out our roundup of espresso machines under $300. Plus we have our general list of budget espresso machines.
Brand and Reputation
Names like Breville and De'Longhi are known for making amazing espresso machines. These are high-end brands that do know all about what makes a the most amazing espresso, and they have come up with affordably-priced consumer-friendly models. So yeah, I would trust them with my espresso, and I would consider these names first.
Pressure
It's called espresso because it needs pressure to extract it, otherwise, it's really just brewed coffee, right? Check the machine's specs and make sure it can generate some pressure, ideally at least 9 bars when it gets to the grounds.
Maintenance
Maintenance is yet another key factor to consider. If the water tank, milk reservoir, and drip tray are removable, that means that the maintenance will not cause you any problems.
Aside from washing these removable parts and the portafilter, do not forget the fact that you need to run descaling processes through the machine every once in a while. Proper maintenance is key to longevity when it comes to espresso machines!
Build Materials
As for the quality, I recommend that you get a machine made with durable materials like stainless steel. You should be wary of machines with plastic parts because they are not as durable. Although for a budget of $200, the machine you'll end up getting will probably have some plastic parts, but as long as the resulting espresso doesn't have that plastic taste, we can all live with that.
How Many Bars of Pressure Do You Need for Espresso?
The different espresso machines will come with different bars of pressure. I would recommend that you go with a machine that has at least nine bars of pressure. The pressure needed for espresso is anywhere from seven to 15 bars – anything more or less than that might not be useful.
Why Are Nespresso Machines Included in This Roundup?
I mentioned a couple of Nespressos in this guide. Even though they have prices similar to the rest of the machines on this list, their quality is somewhat better if you ask me. If you're okay with using single-serve coffee capsules, and not being able to tweak your brew parameters,  then I would say you should at least consider it.
Get the Most of Your $200
I hope that you liked my top seven picks for the best espresso coffee machines under $200. The Nespresso Vertuo Plus is a clear winner in my eyes. Still, I encourage you to look over all the machines on this list more carefully before deciding which one to get!
Thank you for sticking with me through this guide. Let me know if you have had any experience with any of these machines and if you liked them or not. I cannot wait to read all your comments.