Updated: November 12, 2023 by Alex Carpenter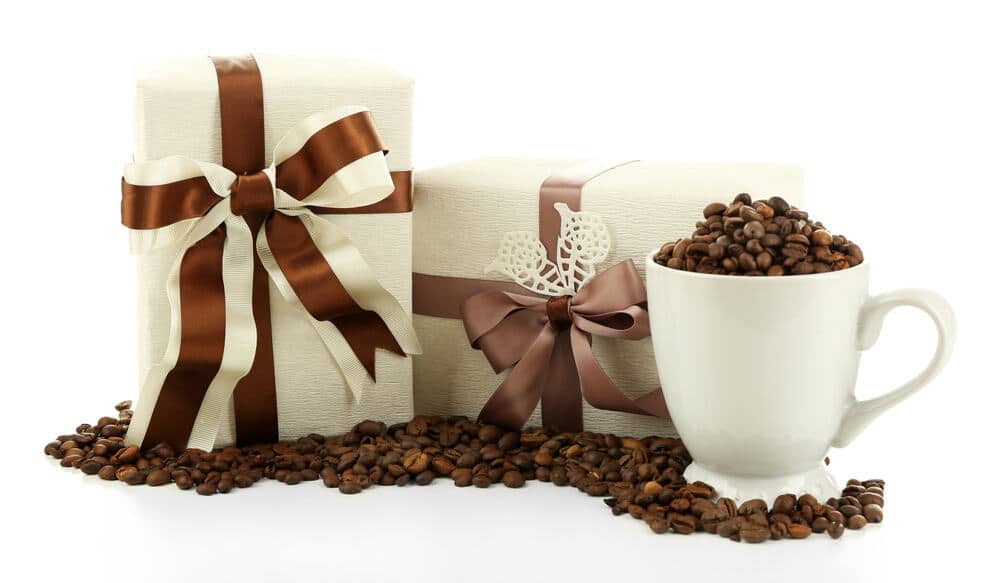 Awakening to the rich aroma of freshly brewed coffee is like a warm hug for the soul. For those who have a passionate love affair with coffee, it's not just a beverage; it's a way of life. Whether they start their day with a meticulously brewed pour-over or savor the convenience of a perfectly pulled espresso shot, coffee enthusiasts understand the magic that a well-crafted cup of joe can bring to their day.
At Caffe Streets, we share a deep love for coffee, recognizing its diverse and exciting world with endless methods, flavors, and experiences to explore. In celebration of the coffee lover in your life, we've thoughtfully curated a range of unique coffee-related gifts. Whether they're a seasoned barista or a casual coffee sipper, our collection is designed to enhance their daily coffee ritual.
We understand the challenges of finding the best gifts for coffee enthusiasts, so we've assembled a diverse list of coffee-related gifts to cater to various tastes and budgets. Our goal is to simplify and enrich your coffee gifting experience, offering options that suit different preferences. We hope this selection makes the process of gifting to coffee lovers more enjoyable and hassle-free.
Coffee Beans and Coffee Grounds for Coffee Lovers
Coffee beans are an excellent gift choice for coffee lovers. They offer a variety of flavors and origins elevating the coffee experience and allowing recipients to explore new tastes. We've included several sampler sets to cater to different taste preferences.
Comes with 9 try-me size samplers of freshly roasted, 100% Arabica coffee and a Coffee Beanery Logo travel mug
Flavorings (added after roasting) are Sugar-Free, Lactose-Free, and Gluten-Free
Available in ground beans option only
All the coffee options in this box are delicious. I especially love the Michigan Cherry flavor because it reminds me of my trips to Traverse City, Michigan. The sample-sized portions they provide are just the right amount to savor, but they also leave you wanting to buy more of their delightful flavored coffees. The travel mug is a convenient and eco-friendly way to take my coffee with me to work. Plus, they have a range of gift baskets that make it simple to give coffee-related gifts to fellow coffee drinkers.
Comes with 8 packs of Organic Whole Bean Roasted Coffee that have been sun-dried and a reusable French Press
Whole coffee beans from Sumatra, Timor, Brazil, Peru, Ethiopia, Colombia, Mexico and Guatemala
Small batch and hand roasted
This box includes a lovely variety of organic coffees sourced from different corners of the world. They're all medium roast, which makes it a great choice if the preference is for a milder coffee. The French Press that comes with it is a quality, reusable option. Just keep in mind that the coffee beans are whole, so if you're planning to use them with the French Press, you'll need a coffee grinder, which is not included in the package.
Contains 4 Boxes of Peet's Coffee Espresso 10 Count Capsules (Ricchezza, Crema Scura, Ristretto, and Nerissimo Espresso)
Compatible with Nespresso Original Machines Only
Aluminum capsules are fully recyclable (through our mail-back program)
If you or the gift recipient have the original Nespresso Machine, this is a fantastic choice. It lets you enjoy a rich and flavorful coffee shop-like experience without the long waits and hassle. The coffee pods are easy to use, and it's great to know that they're eco-friendly thanks to Peet's recycling program. If you are searching for a compatible machine check out the Nespresso Essenza Mini espresso machine in our Coffee Machines section below.
16 oz each of: Tanzania Peaberry, Guatemala Peaberry, Brazil Peaberry and Papua New Guinea Peaberry
Premium specialty coffee
Brighter acidity and complex and unique flavor profiles
It's a fantastic gift for that coffee aficionado you know. You'll get four bags of Peaberry Coffee Beans from various corners of the globe. Peaberries are a rare find, so they're extra special. The flavors waiting for you in this gift set are pretty interesting and definitely worth a taste.
Coffee is hand-roasted an artisan micro-roastery in Denmark
Organic and Fairtrade certified
Comes with 2-packs of 7 different varieties of coffee and patented coffeebrewers
They provide coffees that come with these nifty, reusable Coffeebrewers, which are like a mix of a French press and a pour-over. It's a cool and eco-friendly way to brew your coffee, perfect for packing on camping trips, hikes, or when you're traveling. Personally, I prefer my coffee on the stronger side, and these flavors are a tad milder for my taste. However, I think they're fantastic for on-the-go situations.
Single Origin coffees from Sumatra, Costa Rica, Colombia, Ethiopia, and Guatemala
Roasted in small batches for the freshest tasting coffee
Available in whole bean or ground coffee and a variety flavor of options
As a Disney enthusiast, I couldn't resist the adorable packaging on this, making it a perfect holiday gift! It's got a range of exciting flavors like Sinn' O Bunn and Maple Bacon. The coffee itself tastes really good. Personally, I'm into darker roasts, and this box has only medium roasts, so I'm thinking of trying the World Tour Bundle next time. They have a nice selection of sample/bundle options for every coffee lover, and their flavor offerings are fun.
Ground and whole bean options
Single Origin Coffee from Ethiopia, Rwanda, Kenya, Sumatra
Only Grade 1 coffee beans
I loved the wonderful smells wafting from this bag. The Sampler Box offers a great variety of roast levels. The flavors are super deep and rich, which is no surprise considering they use only Grade 1 coffee beans. I'd absolutely recommend this as a gift for fellow coffee enthusiasts.
Comes in ground or whole beans and also in a smaller 4-pack option
Specialty coffee from 8 different countries- India, Nicaragua, Uganda, Peru, Costa Rica, El Salvador, Kenya, and Guatemala
Makes 32 cups of highly curated coffee
The packaging in this box is pretty for gifting. It includes postcards with the backstory of each coffee by origin, along with tasting notes and brewing tips. While I appreciate all that info, I can't help but think it might have been more eco-friendly if they included it on the package itself. The assortment of coffees in this set is nice and varied. Just be mindful that this is a sampler pack and the portions are sampler size. Atlas also offers a coffee subscription option for the coffee drinker in your life.
2 K-Cup pods from 20 popular varieties (40 total pods)
Includes light, medium, and dark roast coffee as well as Fair Trade and organic varieties
Great for sampling and discovering new coffees
I really liked the diversity of coffee choices in this pack. It gave me the chance to explore new coffee flavors that I might not have ventured into otherwise. It makes a good gift for K-cup coffee drinkers who want to explore new flavors. Personally, I lean towards darker roasts, but this box has quite a few light to medium roasts. I will need to check out the Bold Lovers box once I get through this one.
Colombian, Peruvian and Guatemalan- profiled specifically for cold brewing
Fair Trade/Farm Gate Single Origin
6 Cold Brew filters are provided
I was genuinely impressed by the flavor profiles in this set. It made whipping up a smooth, solid, and satisfying cold brew a breeze – minimal effort, maximum taste. If you're looking for cold brew gifts, this would make a fantastic option.
Grinders
Grinders are a vital component in enhancing the coffee experience. Grinding your own coffee beans helps maintain freshness and preserves the full flavor profile. Grinders make excellent gifts because they empower coffee lovers to adjust the grind size, catering to their specific brewing method and flavor preferences for optimal extraction.
Multi purpose- can grind coffee, herbs, spices, nuts
One touch grinding
Easy to Clean
I'm a big fan of versatile gadgets. It's perfect for both coffee lovers and adventurous home chefs because it can grind coffee, spices, herbs, nuts, and more. With its simple one-touch operation and efficient stainless steel blades, it makes grinding a breeze. This handy little grinder is a thoughtful gift for anyone who enjoys freshly ground coffee or loves getting creative with spices in their cooking.
Stainless steel conical burrs
38 grind size settings
Holds up to 12 oz of coffee beans
Grinding your own fresh coffee beans is a game-changer, and coffee grinders make fantastic gifts for coffee lovers. The OXO Brew Coffee Grinder offers a broad selection of grind settings to suit various brewing methods. It's easy to use, compact, and relatively quiet. This gift is sure to level up their coffee experience.
Portable
Stainless steel conical burrs
Handle folds for easy storage
This portable grinder is a must-have for coffee enthusiasts on the go. Its conical burrs provide consistent results and can grind fine enough for espresso. Its compact, foldable design is perfect for camping, backpacking, and travel. It's all about convenience and quality for those who want fresh grounds and great coffee wherever they roam.
Stainless steel conical burrs
60 precise grind settings
Adjust grind time in 0.2 second increments for fine tuning dose
It's a precision tool that takes the coffee experience to the next level. With customizable grind settings for various brewing methods and a user friendly digital interface, it ensures a perfect cup every time, whether for French press or espresso. This grinder is versatile, stylish, and the ideal gift for anyone who appreciates exceptional coffee. It complements the Breville Bambino Espresso Machine listed below in the espresso machines section.
40 grind settings
Hardened alloy steel burrs
Designed to be maintained like commercial grinders- long lasting
This entry-level grinder has proven to be incredibly reliable. I've been using it daily for a year now, and I'm pleased to report that it's still performing flawlessly. The burrs remain sharp, and I haven't encountered any issues. One thing I particularly appreciate is that there's no mess – no dust or grinds spilling out when I remove the cup, and it doesn't generate annoying static. It consistently delivers a uniform grind, which is fantastic. The fact that it has replaceable parts is a big bonus, as it means you won't have to replace the entire unit if something wears out. Can't go wrong with this as a gift.
If you are interested in more in depth research with grinders check out these articles Burr Grinder vs. Blade Grinder, Best Burr Grinder, 5 Best Coffee Grinders.
French Press
French presses are appreciated for their simplicity and their ability to make a rich, aromatic brew. They are great for brewing coffee or tea. We've included a few French Press options that are easy to use and built to last.
Triple layered filter
Double-layered stainless-steel body keeps coffee hot for longer
Drop and rust proof
Its double insulation is like magic, keeping my coffee piping hot, and the stainless steel filter does a fantastic job of preventing those pesky coffee grounds from ending up in my cup. Not only does it brew fantastic coffee, but it's built to withstand the test of time. Whether you're new to coffee or a die-hard enthusiast, this French press is a considerate and stylish pick that promises a cup of joy with each brew.
BPA free materials
4 level filtration
Made with high quality heat resistant borosilicate glass and stainless steel
This French Press is a real beauty, like a piece of art for your kitchen. It's crafted with a thicker borosilicate glass compared to many others out there, but it's essential to handle it with care since, after all, it's still glass. Thanks to its four-level filtration system, it brews a cup of coffee that's wonderfully smooth and rich. It's a sophisticated gift for anyone who loves their French Press coffee.
Includes 1 packet of Godiva Chocolate Truffle Coffee
2 decorative mugs
Reusable French press coffee maker
This fancy gift box brings together top-quality coffee blends and Godiva's famous chocolate mastery. Inside, you'll find a rich chocolate-flavored coffee, a chic French press, and a pair of elegant Godiva coffee mugs – everything you need for a truly indulgent coffee affair. The glass on the French Press is delicate, so handle it with care. This gift assures the ideal combination of superb coffee and heavenly chocolate for a moment of pure luxury.
If you want to check out more French Press options take a look at this article 9 Best French Presses.
Phin (Vietnamese Brewing Tool)
For a distinctive gift tailored to coffee enthusiasts, consider a phin, a compact and straightforward Vietnamese brewing device that delivers a potent coffee experience. Vietnamese coffee is renowned for its robust and bold flavors, making it an excellent choice for those who relish strong coffee.
Stainless steel phin filter- traditional Vietnamese Brewing Tool
Lifetime Warranty
Portable and easy to use
Great coffee sometimes requires patience. With this Phin filter, you can brew traditional Vietnamese coffee, known for its bold and robust flavors. Brewing coffee this way might take a bit of practice and patience, but the delicious rewards are well worth it. Whether you're a coffee enthusiast or someone excited to explore new coffee traditions, this Phin Filter lets you savor the taste of Vietnam's coffee culture from the comfort of your own home.
Pour Overs
Pour-over coffee makers are elegant and artistic tools that cater to the tastes of coffee aficionados. They make thoughtful gifts for individuals who truly relish the art of crafting coffee and value the finer aspects of coffee preparation.
All-in-One — Manual coffee grinder, gooseneck Kettle, glass dripper brewer, glass server, cleaning brush, and 50pcs paper filter.
Great esthetics
Easy to use
This is a solid all-in-one set for pour-over coffee lovers, whether they're seasoned pros or just starting to explore the world of pour-over brewing. It's not only stylish with its sleek and elegant design, but it also brews delicious coffee. Whether the person is a pour-over expert or a beginner, this set provides them with the tools to craft the perfect brew and truly enjoy the process, resulting in a coffee experience that's rich and nuanced. It's a must-have addition for any coffee enthusiast's collection.
Easy to use, and environmentally friendly
Stainless steel filter
Lifetime warranty
This is a gift for outdoor enthusiasts and camping coffee lovers. It features a stainless steel pour-over filter, a 20-ounce camp mug, and a versatile lid. This set stands out for its ruggedness and adaptability, making it perfect for outdoor adventures. Super easy to use and clean making it great for camping trips. It's a practical gift that brings a taste of home to their outdoor experiences.
Non-porous Borosilicate glass
Simple to use
Elegant design
This is a perfect gift for those who appreciate the art of pour-over coffee brewing. This elegantly designed coffee maker combines functionality with aesthetic appeal, producing a smooth and beautiful aromatic cup of coffee. It involves a mindful coffee-making process so don't expect to perfect this craft the first time around. Great for those who value the craftsmanship of brewing coffee.
Complete set: Glass Pot, Ceramic Coffee Dripper, Measuring Spoon, lid, and filters
High Quality
Japanese craftsmanship
Here's another fantastic kit for coffee lovers who appreciate the fine art of pour-over brewing. The unique ridges on the V60 dripper ensure that the flavors are extracted evenly, resulting in a coffee that's perfectly balanced. Whether the person you're gifting is a pour-over pro or just starting out, this set provides the tools they need to brew a flawless cup. It inspires a careful and focused approach to brewing coffee, resulting in a brew that's abundant in aroma and uniquely flavorful.
If you are looking for more information on Pour Overs check out this page Best Pour Over Coffee Makers.
Moka Pot
A moka pot is a stovetop coffee maker that brews strong, espresso-like coffee. It's compact and portable making it a great gift for those who like strong coffee while camping, traveling, or have limited kitchen space. It's ideal for coffee enthusiasts who enjoy strong coffee and want a convenient way to brew it.
Made in Italy
The original stovetop espresso maker
Polished aluminum construction
This is an iconic gift for coffee lovers. The stovetop espresso maker is an adored symbol of Italian coffee culture, though it doesn't quite make a true espresso but a robust coffee. One thing to note is to pay attention to the size you choose, as it can be a bit tricky; it brews espresso-sized "cups," not American-sized ones. If your gift recipient enjoys strong coffee, the Moka Express will let them experience Italian coffee culture right in their own home.
Cold Brew Maker
A cold brew maker is a device designed to brew cold coffee by steeping coarsely ground coffee beans in cold water for an extended period. It allows for the creation of smooth, less acidic, and highly concentrated cold coffee, which many coffee lovers enjoy. Cold brew makers are simple to use, perfect for warm weather, and offer a convenient way to prepare refreshing coffee at home.
BPA Free
Fine-Mesh Coffee Filter keeps grounds out
Airtight and leak proof
The Takeya Cold Brew Coffee Maker is an excellent gift for coffee enthusiasts who enjoy the refreshing twist of cold brew coffee. This convenient coffee maker simplifies the cold brewing process, making it a breeze to create your own cold brew concentrate right at home. It stands out for its ability to produce a delicious, less acidic, smoother, and richer coffee. 
Patented High Pressure Nitro Nozzle
Portable
Easily infuses micro-bubbles to give drinks smooth velvety texture
This is quite a unique gift for coffee enthusiasts who appreciate a distinctive coffee experience. It allows users to infuse their cold brew with nitrogen, creating a creamy and luxurious nitro coffee reminiscent of a frothy stout beer. Its solidly built, fast, and easy to use. Whether the recipient enjoys cold brew or is curious to explore the world of nitro coffee, this gift equips them with the tools for a one-of-a-kind coffee adventure.
Portable Espresso and Coffee Makers
A portable coffee maker is a compact, versatile device that brews coffee on the go. It's a great gift because it allows coffee enthusiasts to enjoy their favorite brew anytime, anywhere, whether they're traveling, camping, or on the move. It provides a convenient and fresh coffee experience without the need for a traditional coffee machine, making it an ideal gift for those with an active lifestyle.
Manual operation only, No battery/electricity need
Simple to operate
Portable
This is wonderful for espresso lovers who crave freshly brewed espresso on the go. I like that it is compact and hand powered instead of needing to rely on electricity or batteries. Its portability makes it ideal for travel, camping, or outdoor use. Despite its smaller size compared to a traditional espresso machine, it manages to produce a rather good espresso shot complete with crema. This performance is truly impressive. If you want an option that also uses Nespresso pods check out the Nanopresso and adapter.
Great for traveling and camping
Patented technology combines agitation and pressure with micro-filtration so you can use finer ground coffee
Compact, durable, shatterproof and lightweight
The Aeropress makes another great gift for individuals who desire a convenient way to enjoy espresso while on the move. This compact and portable coffee maker is an ideal travel companion for those who value the flavor of good coffee or espresso. While it may not achieve the same level of espresso quality as a high-end, expensive espresso machine, it comes remarkably close, and considering its price, it's a winning choice. It bundles well with the Fellow Prismo Attachment, see coffee accessories below.
All in one brew and drink
Uses vacuum pressure to brew coffee in two minutes
Reusable eco friendly components
This inventive gadget integrates a coffee grinder and brewer, enabling individuals to effortlessly grind coffee beans and create a fresh cup of coffee. It's crafted with portability in mind, making it perfect for use during travels and outdoor escapades. While it does demand a bit of effort to achieve that delicious brew, its compact, convenient design, and the delicious results make it more than worthwhile.
100% human-powered, portable
Durable materials- cast aluminum and stainless steel
3 year warranty
This machine is a delightful present for those who relish having a hands-on approach to crafting espresso, giving them greater control over the process, rather than depending entirely on the machine.  This hands-on involvement extends to fine-tuning critical factors such as grind, water temperature, pressure, and the extraction process, providing a more personalized and engaging espresso-making experience. Keep in mind that it will require additional supplemental tools.
Espresso Machines
An espresso machine is a kitchen appliance that brews concentrated coffee by forcing hot water through finely-ground coffee beans. It enables coffee lovers to craft barista-quality espresso, cappuccinos, lattes, and other coffee shop beverages in the comfort of their own home. These machines make wonderful gifts for those who enjoy espresso or espresso based drinks.
Compact Design
9 bar extraction pressure
ThermoJet heating system for optimum extraction temp
Th machine is not only charming in its compact design but also impressively capable of brewing a strong and flavorful espresso. It's an excellent gift for espresso drinkers who prioritize convenience, especially when dealing with limited kitchen space. It is important to note that it doesn't include a built-in grinder, so a separate one is needed. Despite this, it's incredibly intuitive and excels at extracting a delicious espresso with a satisfying layer of crema. Pairs well with the Breville Smart Grinder Pro above.
15 BAR Pump
Manual Milk Frother
Stainless Steel Boiler
For its price point, the De'Longhi Stilosa offers a surprisingly remarkable espresso experience. It's a straightforward, no-frills machine with a sole focus on brewing delicious espresso. Its simplicity makes it incredibly easy to use, and it even comes equipped with a built-in frother for crafting lattes and cappuccinos. A separate grinder is necessary to complement this machine, and investing in a few additional accessories can significantly enhance your espresso-making capabilities, allowing you to explore and refine your coffee craft. Check out some recommendations for accessories below.
Light and Compact Design
19 bars of pump pressure
Simple to use and very low maintenance
Ideal for individuals who desire a quick and hassle-free espresso experience, this machine operates with Nespresso pods, providing almost instant espresso without any mess. While the pods might be a bit more expensive compared to using coffee beans or grounds, it's a trade-off for the convenience it offers. It consistently delivers delicious espresso, but for specialty coffeehouse drinks that involve steamed or frothed milk, additional investment in equipment is necessary.
19-bar pressure system delivers ultra-flavorful espresso with a silky-smooth crema
Brew with pods or grounds
Easy to use
This appliance is a versatile and multifunctional machine that covers a wide range of coffee-related tasks. It's capable of brewing espressos, crafting coffeehouse favorites like cappuccinos, making both classic and iced coffee in various serving sizes, and accommodating either coffee grounds or pods. Its super functional and so simple to use. I like the fold away frother with detachable unit allowing for easy cleaning. One downside is that the coffee dripper necessitates the use of coffee grounds, while the espresso maker relies on the utilization of pods.
Auto grind and dose, and extract in under one minute
Built in milk steamer/frother wand
Semi-Automatic
While it's not the most budget-friendly option, this espresso machine is a true investment that will keep delivering yummy barista quality shots for years. It's a durable and dependable machine, and even after 7 years, it's still performing like a champ. There is a bit of a learning curve, but once you get the hang of it, you can consistently brew delicious shots. It's worth noting that it's not entirely automatic, so you'll need to be somewhat involved in the process, but it's straightforward to clean and maintain. All in all, it's an excellent machine that would make a delightful gift.
Fully Automatic
40+ Coffeehouse Hot & Cold Recipes
Fully customizable recipes
This exquisite Italian-made fully automatic machine is a true delight. With just a few taps, you can enjoy a perfectly crafted coffeehouse-quality beverage designed especially for you. While it comes with a higher price tag, it's an investment that eliminates the need for frequent visits to Starbucks or coffee shops, ultimately saving you money in the long term. If you desire a completely effortless coffeehouse experience with consistently delicious results, this machine is the way to go. It's a luxurious and indulgent gift choice that promises a premium coffee experience.
Looking to do more research on Espresso Machines? Check out these Best Espresso Machines, The Best Espresso Machines Under $200, The Best Breville Espresso Machines, Best Espresso Machines Under $100.
Coffee Machines
A coffee machine is an ideal gift because it offers the convenience of brewing fresh coffee at home. It comes in different types, accommodating various coffee preferences. This convenience and versatility make it a thoughtful gift for anyone who enjoys a daily caffeine fix or the aroma of freshly brewed coffee.
Brews in under 4 minutes
Quick and easy to use
Consistent results
This is a nice gift for anyone who loves iced coffee. It's priced just right, consistently delivers delicious iced coffee, and couldn't be simpler to use. Plus, it includes a handy reusable tumbler, perfect for taking your brew on your daily commute. It does exactly what it promises, and it won't break the bank. It can also brew a decent single cup of hot coffee if you're in the mood for a change.
4 Brew Styles: Classic, Rich, Over Ice, or Specialty Brew (for coffeehouse drinks like lattes and macchiatos)
6 Brew sizes
Built in, Fold Away frother
This machine is quite versatile and can whip up a variety of coffee beverages in different sizes. While it doesn't create a traditional espresso for lattes or macchiatos, it does produce a flavorful coffee concentrate, which still tastes fantastic, so it's not a major drawback. What's really handy is that you can brew a full pot of coffee or a single serving, make iced coffee, and craft all sorts of coffee shop-style drinks with this one machine. It's a well-rounded gift choice for your favorite coffee lover. If you want a similar machine that can utilize pods check out Ninja CFP301 DualBrew Pro.
Single serving sizes (4 oz, 6 oz, 8 oz, 10 oz or 12 oz) or Carafe sized serving up to 12 cups
Hot and Iced coffee
Compatible with pods or grounds
This coffee maker is perfect for brewing a straightforward and tasty cup of drip coffee. Great choice if you want the option of a single serve on the go or a larger pot for guests dropping by. I really like being able to choose the brewing strength that matches my personal taste. Additionally, the iced coffee feature is a delightful bonus, especially when dealing with the sweltering heat of summer in the South. If you're in search of an even more basic coffee maker that focuses on making larger servings of pot coffee, you might want to consider the this Cuisinart Coffee Maker.
BetterBrew Precision Brewing- optimizes brewing for flavorful coffee
Modern esthetics
Stainless steel carafe keeps coffee hot
This coffee maker is a sleek addition to your countertops. It makes a consistently good cup of coffee. It's made from very high quality and durable materials. The stainless steel carafe keeps my coffee hotter but it is sometimes difficult to tell how much coffee remains.
Comes in a fun assortment of color options
Easy to use
Fun esthetics
This machine doesn't just brew coffee; it's a stylish addition to your kitchen decor, and you can choose from a variety of color options to find the one that really stands out. While it does come with a higher price tag, it consistently delivers a satisfying cup of coffee. I particularly like that it brews the coffee nice and hot, which suits my preference for slightly higher temperatures than the average person. What's even better is that it's incredibly intuitive and straightforward to operate, making your morning coffee routine a breeze.
Brew iced and hot coffee in minutes
3 Sizes: 8, 10, and 12oz
Fits tumblers and travel mugs up to 7" tall
The updated design and compact size of this Keurig machine really appeal to me. It's speedy at brewing my pods, outpacing the previous models. What I find especially convenient is its ability to brew both iced and hot coffee with minimal mess and maintenance. This coffee maker is a great choice for someone gearing up for college and dorm living. It's also a perfect fit for smaller RVs or camper vans, where space-saving and efficiency are essential.
See 5 Best Coffee Makers with Grinders and Best Single Serve Coffee Maker for our other coffee machine reviews.
Coffee Syrups
Coffee syrups provide a convenient way to enhance the coffee experience by introducing delightful flavors like caramel or hazelnut into your morning routine. They are also versatile, extending beyond coffee and serving as fantastic additions to desserts, such as ice cream, and for enhancing the flavors of foods like pancakes and oatmeal.
Made with pure cane sugar, natural flavors, and filtered water
Gold standard flavors
2 year shelf life
This syrup elevates your coffee turning it into a delightful treat bursting with flavor. Whether you want to create a special, indulgent coffeehouse-style beverage or simply add an exciting flavor twist to your everyday cup of joe, Torani has got you covered. They offer a wide range of flavors, including sugar-free options, catering to different tastes and preferences. Using it is a breeze – just a pump or two can work wonders and significantly enhance the flavor of your drinks. It's an easy and effective way to step up one's coffee game.
Made with Pure Cane Sugar and Natural Flavors, No Artificial Ingredients
GMO Free, Dairy Free, Gluten Free, Halal, and Kosher
BPA free bottles
This sampler pack provides an exciting opportunity to experiment with various flavor enhancements for your coffee. It's a fantastic gift idea that can add a touch of excitement to the life of devoted coffee drinkers. Monin has an extensive range of other flavors, and you should definitely explore their holiday collection as well. This set can be a delightful addition to someone's coffee bar or coffee setup, introducing a world of new tastes and experiences to their daily coffee routine.
See our Coffee Syrup Gift Sets page for additional coffee syrup suggestions.
Coffee Mugs and Containers
Mugs and glasses make great practical gifts for coffee lovers. The right mug or glass can improve the aroma, taste, temperature, and overall enjoyment of the coffee. They come in a variety of styles, so you can find one that suits the recipient's preferences, whether they prefer a classic, elegant look or a more modern and stylish design.
Mulitple sizes and colors to choose from
Drinks stay hot up to 5 hours and cold up to 12 hour
Leak and spill proof
I have a soft spot for these travel mugs, especially when it comes to my daily commutes. They excel at keeping my coffee hot, and the best part is that I can say goodbye to any worries about leaks or spills. Cleaning them is a breeze, and their durability and reliability are truly commendable. These mugs have become my trusted companion for enjoying a hot, mess-free cup of coffee on the go. They are reasonable priced and make great gifts for any coffee lover on the go.
Designed to fit in most cup holders
Lifetime warranty- built to last
Hot for up to 7 hours and cold for up to 10 hours or iced for up to 30 hours
The Stanley travel mug is another great travel mug, known for its durability and unwavering reliability. It does exactly what it promises, ensuring that your coffee stays as hot as when it was freshly poured from the carafe. Tossing it into my bag is a no-brainer, as I never have to fret about any accidental spills. These mugs have a remarkable lifespan, and when you consider the excellent value for the extended utility they offer, it's hard to beat. It will be a gift that keeps on giving.
BPA free
Keeps cold drinks cold and hot drinks hot until the last sip
Dishwasher safe
This versatile mug isn't limited to just coffee; it's your go-to companion for a wide range of treats, from ice cream to soup, tea, and both hot and cold foods, ensuring your food and drinks are always at the ideal temperature. It's important to note that the lid, featuring a magnetic slider, might not be completely leak-proof, so it's best to handle it with care. With its versatility and multiple uses, this mug makes practical gift for just about anyone in your life.
Comes in multiple solid color options also
Glaze is nonporous, non-reactive and resistant to chips, scratches and stains
Superior heat retention keeps food warm or cold for serving
Le Creuset is renowned for crafting exquisite stoneware items that can truly stand the test of time. Their Noel Collection is a wonderful choice for a Christmas gift, especially if you're shopping for a coffee lover. Not only do these pieces make your coffee moments even more delightful, but they also keep your coffee hot, ensuring it stays that way until you savor the very last sip. Note that like all their stoneware creations, they do tend to have a bit of weight to them, but still a great cup.
Stackable
Double wall ceramic
Created with latte art in mind
These elegantly simple glasses were thoughtfully crafted with latte art in mind. The unique design of the interior base curvature is a barista's dream, expertly lifting the crema to the top without any disruption. So, if you happen to know a creative barista, this could be a delightful gift to brighten their day. What's more, the stackable feature makes them a convenient space-saving choice, adding to their practicality.
Choose between 2 piece cappuccino or espresso set
Keeps contents hot while remaining cool to the touch
High quality double walled glass
Crafted with precision by German engineers, these cappuccino mugs stand out for their remarkable combination of lightness and sturdiness, especially when compared to similar products. They keep my beverages warm and my hands comfortable. If you're looking for a delightful gift idea for someone who adores lattes or cappuccinos, these mugs are an excellent choice.
Set of 2 espresso cups with saucers
White porcelain
Italian design
Each time I take a sip from these, it transports me to a charming little café in Italy, where I can imagine savoring the finest espresso. Not only do these mugs boast an minimalist design, but they also have a substantial weight to them, and they excel at retaining the heat of your drink. Makes a great gift for espresso lovers.
Coffee Mug Warmers
A coffee mug warmer ensures your coffee or other drinks stay at the perfect temperature, preventing them from getting cold too quickly. These are ideal for those who enjoy savoring their beverages slowly or get easily distracted during work or other activities.
Stainless steel retains heat
Temperature readings are accurate within 1 degree
One-touch controls
This little gadget is a lifesaver when it comes to keeping my favorite drink warm. But it's not just a one-trick pony; it's versatile enough to melt cheese or chocolate too. Cleaning it is a breeze, and using it is as simple as can be. It's a trusty warmer that gets the job done, working well with your own mug and even better with the mug it comes with. A nice gift for anyone who works at the office and likes their beverages hot.
120°-145°
Pair this temperature control mug with the Ember app to set the temperature, customize presets
Keeps temperatures for for up to 80 minutes and all day on the coaster
This little luxury is one of those things that pleasantly surprises you once you've experienced it. Once it becomes part of your routine, it's tough to imagine going without it. If you're someone who loves their coffee and tea hot, this is a gem of a gift. It's on the more expensive side, but it does manage to maintain the warmth of your coffee, even though, for my taste, it's not as piping hot as I prefer. As for longevity, I can't say for sure just yet, as mine is relatively new, but no issues so far.
Long-lasting battery
Warm (130°), Hot (140°), or Piping (150°)
Easy to use and set temperatures
I have a real fondness for this mug, particularly when I combine it with the lid because it does an excellent job of maintaining the temperature of my coffee at its steaming best. I find myself reaching for it regularly, almost every time I'm sipping on a hot beverage. It's not just a mug; it's a trusty companion that suits both those who enjoy leisurely sips and those who take their time finishing their coffee. It would make a splendid gift for anyone who appreciates a steaming hot cup of coffee until the very last drop.
17 watt mug warmer
Surface easily wipes clean
Portable
This is a straightforward, no-fuss mug warmer that performs its job reliably. It's a portable little device that you can easily match with your favorite mug filled with your beloved hot drink. Just keep in mind that you can't adjust the temperature setting on this, so it might not be the perfect match for those with specific temperature preferences. But if you're after a dependable way to keep your drink warm, it gets the job done.
Coffee Accessories & Tools
Choosing a coffee accessory for a loved one depends on what type of coffee they prepare. If you are looking for a cheaper gift then be sure to select a gift accessory from the proper category so they will be able to use what you get them. These also make great additions to take the other gifts you are getting them to another level.
Filters
Coffee filters are essential for certain brewing methods, as they help strain out the coffee grounds while allowing the liquid to pass through. They make great gifts because they are practical and ensure a clean, grit-free cup of coffee. They come in various types, including paper and reusable metal or cloth filters, catering to different brewing preferences.
Eliminates the need for paper filters
Eliminates the need to invert the Aeropress
Easy to clean
Filters are messy, wasteful, and they add an unnecessary expense that you have to manage to use your coffee maker. The Fellow Prismo Attachment is an innovative way to remove filters from using an Aeropress. This makes using an Aeropress so much cleaner and easier that I don't use this word lightly, but I consider this an essential Aeropress attachment and I won't use an Aeropress without one anymore. If they use an Aeropress while hiking or camping they may still want paper filters (link) to avoid carrying the extra weight. This is an Aeropress attachment so be sure the receiver either has an Aeropress or that you get them one.
Compatible with most pour over coffee makers (Chemex and Hario) and most standard coffee drippers
Reusable
Lifetime Warranty
This is a great present for anyone who loves making coffee with Chemex, Hario, or drip methods and is another great way to remove filters from their morning brew. I found that it added a richer and more flavorful quality to my coffee, all while reducing paper waste compared to traditional paper filters. It's an excellent gift to enhance someone's Chemex or Hario coffee experience. Nicely pairs with the Chemex or Hario listed above.
Specialty fiber filter design to keep grounds and oils out
Compostable and biodegradable
Prefolded for convenience
Designed to perfectly complement the Chemex Pour-Over Glass Coffeemaker, these filters are made from high-quality specialty fibers ensuring optimal coffee flavor extraction. They are easy to use and create a harmonious coffee-brewing experience, making the pour-over process precise and artful. I prefer the filterless option above for many reasons, but some people like the taste and portability of the paper filters. I recommend to bundle with the Chemex Coffemaker listed above if they don't already have one.
Espresso Machine Accessory Gifts
Espresso machines have a large selection of accessories to improve the espresso making process. When buying a portafilter accessory be certain to consult our portafilter size guide (link) to ensure the accessory will fit their specific machine.
Easy weighing, efficient and tidy transfer between grinder and portafilter
100% stainless steel
Designed with a built-in grinder activating tab to function in harmony with built-in grinders
This accessory was created to perfectly complement the Breville Barista Express. You can easily weigh your coffee and transfer coffee grounds to the portafilter without making a mess. My coffee grounds are pretty evenly distributed prior to tamping. It keeps my kitchen tidy and grounds-free, making it a nice gift for those who don't like messes.
Stainless steel base with natural wood handle
Made In Italy
Suitable for all pump espresso machines
This is a good quality and nice weighted tamper. It does a nice job compacting my coffee beans allowing for a better extraction. This is a nice buy or gift if you have plastic tamper. Definitely worth a switch as you will notice an improvement in the flavor of your espresso.
304 stainless steel base with Anodized Aluminum handle
Consistent Pressure
Ergonomically designed
This simple tamper can really step up your espresso-making skills. It guarantees that your coffee grounds are spread evenly, leading to a smooth and consistent tamp every time. I believe it's an essential tool for achieving consistently delicious results. Great find for any espresso lover!
Available in five different sizes to fit your portafilter
Adjustable tamping depth
Aluminum sleeves and heavy 304 stainless steel base
This is an incredibly handy tool that I didn't realize I needed until I tried it. It adds an extra step to the espresso-making process, but it greatly simplifies and standardizes the tamping by leveling the grounds to the desired height. It has certainly spared me the frustration of unevenly tamped grounds resulting in subpar shots. Another great tool for espresso lovers!
Snaps on securely with magnets
Prevents grind loss
Comes in 3 sizes and tall options
While not an essential espresso accessory, this tool can be a handy addition, particularly for those who dislike mess and the wastage of coffee grounds. The magnetic components makes it quite easy to use, and it performs its intended function effectively.
Break up clumps
Anodized aluminum CNC with premium stainless steel spring wires
Ergonomically designed shape
This accessory is designed to elevate the quality of your espresso shots. It excels in preventing channeling, leading to improved extraction. I've observed a slight difference in the results when using it compared to not using it with the same beans. It's a thoughtful gift for espresso enthusiasts who are serious about their espresso.
Available in two sizes and 5 different wood/color options
Made from high-quality 304 stainless steel
Specifically designed to work with Breville models
These accessories make a lovely pair with your espresso machine. I'm a fan of the elegant wooden handles; they add a touch of class. The bottomless portafilter serves a unique purpose – it lets you watch the whole espresso-making process, making it easier to spot and fix any issues with the extraction. If you're passionate about mastering the art of crafting the perfect espresso, this is a fantastic addition for you!
Reduces the need for constant cleaning and maintenance
Prevents channeling for better extraction
316L steel puck screens with a filtration mesh size of 150 microns
This tool is handy for reducing the need to clean my Breville head after each use. I appreciate it because it's likely to extend my machine's lifespan. It's also designed to address channeling, although I haven't noticed a significant difference yet. This would make a perfect stocking stuffer for folks who aim to maintain a tidy espresso machine.
Coffee Scales
Coffee scales are essential for precision in coffee brewing, providing accurate measurements of coffee grounds and water, ensuring consistency in the brewing process. This precision is crucial for achieving the desired flavor and strength in your coffee. Coffee scales make excellent gifts because they empower coffee enthusiasts to fine-tune their brewing methods, resulting in a more satisfying and customized coffee experience.
Accurate measurement to 0.1g under 500g
Built-in timer
Silicone pad to help with slip and splash
This scale is ideal for measuring smaller quantities, especially coffee, and it's impressively accurate. Whether I'm brewing coffee or baking, it's a reliable tool that I've come to trust for its precision. Its versatility makes it a handy addition to the kitchen. It makes a nice gift for anyone needing precision in the kitchen.
Specifically designed for pour over coffee
Measures in 0.1 gram increments for the highest precision
Measures in both time and weight
Great coffee follows a specific repeatable process. For a pour over this means time, temperature, and weight. With this scale you can measure the exact weight for your beans and follow an exact brewing time with ease due to their innovative design. I haven't found a better way to easily make high quality pour overs than using this scale. Others may have a fancier scale design, but the time feature and separating the weight of the funnel from the carafe sets this scale apart.
Milk Frothers and Latte Art
Milk frothers are devices that create frothy milk for coffee drinks like lattes and cappuccinos, while latte art kits provide tools for making decorative designs on coffee surfaces. These items are wonderful gifts because they add creativity and sophistication to coffee-making, allowing coffee lovers to enjoy cafe-quality beverages at home.
3 temperature settings and 3 different froth levels
Stainless steel pitcher
Easy to use
At first, I had my doubts, but this machine has truly surprised me. I can effortlessly whip up my morning lattes and even create that coffee shop-style cold foam for my iced drinks. The frother is incredibly user friendly, and makes beautiful foam even when it comes to non-dairy milks. It elevates both hot and cold beverages to a whole new level. Great gift for those that don't have frothers on their machines.
Several color options
Easy to use, clean, and store
Stainless steel construction
This would make a nice addition for anyone who wants the coffee shop experience at home. This little frother is impressively quiet yet whips things up in a jiffy. I use it frequently to make velvety creamy lattes and other espresso drinks. It's so simple to use and cleaning it is a breeze. It neatly sits on the included stand when not in use.
Milk frother, frothing pitcher, and barista stencils
13,000 RPM motor that gives you rich and silky foam in seconds
Easy to clean
This bundle includes the same frother as the one mentioned earlier, but it sweetens the deal with a handy pitcher for frothing and easy coffee pouring, plus it throws in some extra stencils to spark creativity in your coffee art. It works well with all types of milks.
3 sizes available and different color options
Inner cup wall features a laser-engraved double scale (ml / oz) for precise measurements
Crafted from high-quality 304 stainless steel
This pitcher allows for precise pouring, making it perfect for creating latte art, cappuccinos, and other specialty coffee beverages. It's a durable and stylish addition to any coffee enthusiast's collection, enhancing their coffee-making experience and enabling them to express their creativity.
Kettles
Kettles are wonderful for rapidly and efficiently heating water, making them a perfect companion for some of the pour over gifts. They allow you to maintain precise control over water temperature, which is vital for getting the best flavors out of your coffee. Controlled pouring ensures that the coffee grounds are thoroughly and evenly soaked, resulting in a consistently flavorful brew.
Elegant, ergonomic design
Great for Pour-Over Coffee
Stainless steel and no-slip cork handle
Considering its price point, I believe this product offers incredible value. Not only is it aesthetically pleasing and a stylish addition to my kitchen counter, but the cork handles also provide excellent insulation to maintain heat. I like that it has an automatic shut-off function, giving me a peace of mind. It operates almost silently and cleaning is a breeze. Keep in mind that this only boils water. This makes a thoughtful gift for anyone who uses boiling water frequently.
5 One touch presets
Food-grade 304 stainless steel
Precision spout
This kettle is a user friendly addition to your coffee or tea routine. It comes with preset temperatures, which adds a layer of convenience to your brewing process. I particularly appreciate how comfortable it is to hold and handle. The spout design offers precise pouring, and the tilt angle is just right, making the overall experience very satisfactory. Makes a nice gift for coffee or tea drinkers.
Precise-pour gooseneck spout
Built in timer
Water is precisely heated to desired temperature
If you're seeking utmost control over your water temperature, this kettle is the perfect choice. It allows you to set your preferred temperature within a range of 140-212 degrees Fahrenheit with one-degree precision, making it an excellent option for pour-over coffee. The built-in timer is a handy feature for accurately timing your pouring process. With consistent temperature performance during use, I find this kettle to be a reliable and a valuable addition to anyone's coffee setup.
Clean simple aesthetic
Built in timer
Precise temperature control
While it may come at a higher price, this kettle is a beautiful addition to your kitchen that's bound to earn some compliments. It's the best gift for those who don't mind splurging a bit on a practical yet elegant gift. Its materials are top-notch, and it heats water swiftly and efficiently. The temperature maintenance is impressive, you can set your exact temperature within about a one-degree range. When it comes to pouring, it's a breeze – smooth, effortless, and a joy to use.
Knock Box
A knock box is a coffee accessory used to dispose of used coffee grounds. It's a great gift for espresso lovers because it helps keep their coffee preparation area clean and organized. Knock boxes are specifically designed to handle the disposal of wet coffee grounds, making it a convenient and hygienic solution.
Internal compartments to accommodate coffee accessories
Easy disassembly, allowing you to efficiently clean
Lightweight and durable
This espresso machine storage unit is awesome. Its compartments are cleverly designed to hold a variety of accessories, from tampers and heavy coffee distribution tools to spare portafilters and puck filter slots. It is designed to fit 54 mm as well as the larger 58 mm portafilters. There's a convenient coffee puck disposal area that can be easily removed for dumping and cleaning. I just wish it were a little bit more sturdy. Make a wonderful gift for coffee pros to organize all their fancy toys.
Stainless steel canister
Knock bar removes for easy cleaning
Anti-slip rubber grip on bottom on unit
A quality knock box is an essential tool, and this one certainly fits the bill. What sets it apart is the rubber-covered knock bar, which can be easily removed from the side with a simple quarter-turn. This feature makes emptying and rinsing the bucket a hassle-free process. In terms of design and functionality, it's straightforward, so you won't have to worry about scratching your portafilter or making a mess with coffee grounds. It's a practical and affordable luxury that coffee enthusiasts will appreciate.
Canisters
Coffee canisters are containers designed to store coffee beans or grounds, keeping them fresh and protected from external elements like air, light, and moisture. They are excellent gifts for coffee lovers because they help maintain the quality and flavor of coffee, ensuring each cup is as delicious as the last.
Freshness valve to release CO2 and lock out oxygen
Track Freshness
Surgical-grade stainless steel body military-grade vault, comes with coffee scoop
This container does an excellent job of keeping your leftover coffee fresh and full of flavor. It's impressively airtight to the point that you won't smell any coffee aroma seeping out when it's closed. The lid allows you track when the coffee inside was ground. Those date dials are sturdy and won't shift on their own. It's a practical and durable solution for preserving the quality of your coffee and other items.
Options for different sizes and colors
Food-safe 304 18/8 stainless steel
Minimalist design
This canister has a sleek and minimalist design. It features a twisting lid with a vacuum-sealing mechanism that requires around 10 to 15 twists to create an airtight seal, and you can even hear the air being removed with a satisfying whooshing sound. Coffee beans stored in this canister stay remarkably fresh, retaining their appearance and aroma as if they were freshly bought. It's worth noting that the sealing process can require some effort, so it may not be the best choice for everyone.
Books
Books allow coffee lovers to dive into the world of coffee, learn about its history, brewing methods, and the art of making a perfect cup. They provide a relaxing and immersive reading experience, making them perfect gifts for those who appreciate both the taste and the cultural significance of coffee.
Written by James Hoffmann a coffee expert, author and the 2007 World Barista Champion
Hardcover, kindle, and audiobook options
Lots of informative content
If you're just getting into the world of coffee, this book is an excellent introduction. It delves into coffee processing, brewing methods, and coffee regions worldwide, providing well-explained content enriched with history and tasting suggestions. I highly recommend it to those looking to delve into coffee culture and gain a comprehensive understanding of coffee's past, diverse techniques, and its roots in various regions. This book also doubles as a perfect addition to any coffee lover's collection, adding a touch of coffee culture to your coffee table.
Written by Coffee guru James Hoffmann
Hardcover, kindle, and audiobook options
Coffee advice from an expert
This book is a fantastic resource for home coffee enthusiasts written by James Hoffman. It explores various coffee preparation methods, offers insights into selecting top-quality coffee, and provides numerous tips for improving your brew. It's a comprehensive guide that's highly recommended for coffee lovers.